Investors rush to maker of $3,000 ski jacket
Want to get rich? Invest in things that rich people buy—including $3,000 ski jackets.
Moncler, the Milan-based maker of stylish puffy jackets that retail for between $1,000 and about $3,000, is about to go public on the Milan Stock Exchange. Its sales growth has been so strong that investors are pouring into the stock offering.
Reports suggest the shares are 20 times subscribed and are likely to price at the top of the projected range. Moncler is selling a 27 percent stake, or 66.8 million shares, and the sale could raise more than $1 billion and value the company at more than $3 billion.
The big winners will be the company's investors who bought big stakes in Moncler in 2011. Eurazeo, the French private equity firm, bought a 45 percent stake in 2011 for 418 million euros ($576 million). Carlyle Group owns another 17.8 percent and Brands Partners owns 5 percent.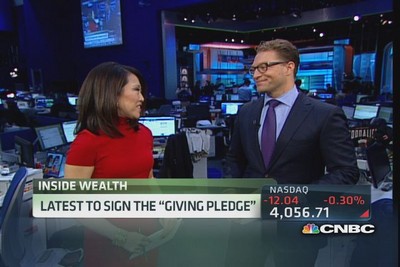 CNBC's Robert Frank reports there are now 122 signers of the "Giving Pledge," which is a promise started by Bill Gates and Warren Buffett for billionaires to give away at least half of their wealth. Frank also provides insight into the mystery tipper.
Remo Ruffini, Moncler's charismastic CEO who bought the company in 2003, has a 32 percent stake.
But investors could also benefit, as companies that sell to the rich cash in on soaring luxury sales. Shares of other high-end fashion brands, like Brunello Cucinelli and Ferragamo, have surged since their IPOs. And with luxury giants like Kering and LVMH scooping up smaller, sports-oriented luxury brands, Moncler could also become a takeover target.
Founded in 1952, Moncler was a sleepy maker of ski jackets in the French Alps. But Ruffini has transformed it into a global fashion icon, with sales up more than 10 fold over the past decade, to 389 million euros in the first nine months of the year.
The company's shiny, slim jackets have become a popular status symbol among wealthy women who like the brand's Alpine pedigree and styles, but rarely find themselves on a ski slope.
The company's "Femelle" leather jacket with goose down sells for $3,110, while its green, fur-lined "Amelle" reversible vest sells for $2,775. The company has more than tripled its sales in North America and built a huge retail business in Asia.